I decided to stop numbering my eBay tips since eventually I'll forget what number I am on. Also, if I put a small description in it, it will help you if you want to go back to it later!
So, lets talk about boxes! This will probably be long but it will be very useful!
First of all. Boxes are a HUGE expense when shipping. It doesn't matter if you are shipping with eBay or just sending a birthday present. Boxes are expensive. If you need to buy a box you can go to an office supply store, a moving company (like U-Haul), a mailbox/shipping place, or a few other places. No matter what, it will not be cheap.
so, rule # 1. Get your boxes for free!!! Really. I have been selling on eBay for about 7 years and have spent money and bought a box about 3 times. It is not worth it!
So, here are a few places to find them free. Please comment if you can think of more to add to the list.
Grocery stores.
Appliance stores.
From people that just moved and are unpacking.
From Freecycle (I'll explain what this is seperetely).
From garage sales (when you buy things ask for an empty box to put your items in).
From packages that arrived in the mail to you or your work (I have two friends that collect boxes for me from their work too).
Empty food or household boxes. Some people think I am crazy but I have no problem shipping something in an empty box that had something in it I purchased at the store. Some boxes I have recycled; cereal, variety chip box, tampons (my sister flipped out at this one), oatmeal, etc. These boxes are not sturdy. Do not ship breakables or heavy objects in them. But, they work great for small items or something pliable like a t-shirt.
When you do your grocery shopping keep all your plastic and paper bags (be sure to get paper bags sometimes since most stores push using plastic since it is easier for them).
Paper bags can be used to wrap books and other small items and then you don't need a box. This saves on postage too!
Plastic bags can be used when you are shipping something that isn't too breakable and requiring bubble wrap but still needs some padding. You can also use plastic bags if there is a small amount of space in the box and you want to put something in there to keep your object from moving around.
If you are shipping something and have a box that is kinda the right size but a little too big- cut it down! Make a smaller box. It takes some practice but isn't too hard to do.
The same way that I get boxes is how I get 98% of all of my bubble wrap or air-envelopes too!
HOWEVER, there are some things you need to do when using recycled boxes.
You can not use a box that states anything liquid is in it. You have to 100% block it out with a big permanent marker or put paper or a sticker to cover it up. Liquid applies to perfumes, car oil, a box that says something about ounces.
Do not use a box that says something is perishable or says that it has food in it.
Some people recycle Priority Mail boxes that the US Post Office provides. Do this only if you are going to ship Priority Mail. I have seen and received boxes that had a Priority Mail box cut up and turned inside out. This is a big no-no with the Post Office. I do not know what the offense it but I do not want to deal with a federal government agency filing legal action against me, do you? Better not use their boxes in this way.
If you are using a box that has a shipping label, destination sticker, etc. remove them or cover them up.
If you are using a normal box but it is stamped Priority Mail the post office will ONLY ship it Priority Mai. You need to black out COMPLETELY or cover up the stamp.
Think of all the paper and plastic you can recycle and save money while doing it!!!
Okay. Look at these photos. The two boxes WERE the same size. I cut one down to make it smaller to fit two shirts into it (so I didn't need to worry about anything breaking). Unfortunately it didn't matter much. The new box weighted 1 lb 3 ozs. If it was 1 lb or under it would have made a huge difference in postage price.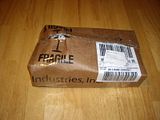 Here is a photo of my STACK going out for the week. I still have 16 eBay auctions that have not paid too. Not the colorful box! LOL! This was a snack box! The post office does not 'like' these. They say all the print and words are distracting to read where it is going. But they have never refused them either. The photo with the onions might not be okay like this. Any tag words like fresh, produce, refrigerated, onions, vegetables, etc. might stop it on the way since state- to-state there are laws about shipping fresh vegetables, fruits, plants or seeds.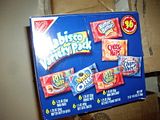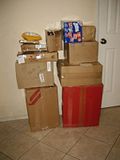 Last photo is all the 'extra' paper around the Click'N'Ship page. First the page is cut into 1/2. Bottom 1/2 I save for my records (taxes and tracking # in case item is lost) top 1/2 is what I tape to the box. BUT there is lots of extra around it. It just takes a few extra seconds to cut this off and will save on how much tape I need to put on the box.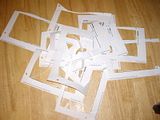 Just a few random frugal ideas or tips.
When you are going to buy something ask yourself if you NEED it or WANT it!!! I really did a doozie and spent $40 on Girl Scout Cookies!! What the heck? Do I NEED $40 in cookies? NO! Does my body or hips need it? NO! Do you children need it? NO! So, this was an opps for me! What have you bought and regretted?
If it is cold put on a sweater. There is no reason the heat needs to be blasting in the house. I keep our thermostat at 60 degrees, F. At night only.
Shop with coupons. www.thegrocerygame.com is a GREAT website. For only $1 a week or a little bit more for more then one store you can get a list of all the sale items that match coupons for the lowest price of them.
I do not pay over $1.50 for a box of NAME BRAND cereal! But usually spend only $1.00. If there isn't any on sale, I won't buy it. There are other, cheaper, ways to feed the family breakfast. Waffles and pancakes are cheap and most of the ingredients are ones that are common baking items. I'll post my favorite waffle one later.
Recycle! I don't know why I never did it before but I just started taking the kids and recycling cans and bottles. They only take ones that have a CRV (California Redemption Value) on them. I rarely drink soda but water bottles are used here and we even can take the cans from the weekly Sunday-night-dinner at my dad's house. The last two times we have gone we got about $4-5.00. This is not much but it makes it where we can get a 1/2 gallon of milk and some other small item. It all adds up!!!
If you can, try to find it free or cheaper. This applies to everything you buy!!!
Return things! I recently took a red eared slider to the pet store. We receieved the turtle for free but after having it for two weeks I decided it was too much. The tank got dirty too easy. Baby K and Little D were not only over feeding it but touching it all the time. Turtles can carry salmonella so this then meant me being on top of them washing their hands every time they touched the turtle. Anyways.. I took it to the pet store. We did not buy it here but they do have turtles that they sell. So, they gave me 1/2 the price they'd sell it for for store credit. I spent the $7.50 and got a few guppies for our fish tank. A week later I realized I still had all of our turtle food (all opened containers) and the water treatment stuff. They took this back too. Gave me a $7.99 (plus tax) container of fish flakes!
Do you where I am going with this? I got 4 fish and some fish food all by 'selling back' stuff that they will use but I didn't even buy there. Ask around!
If you are out of hand soap use a liquid body wash! Just fill up the soap dispenser and no one will ever know!
Anyways, these are all just random! I'm sure there are lots more to come!
I have one very important word if you are listing on eBay.
AUCTIVA A-U-C-T-I-V-A www.auctiva.com
Okay, so I said the same word three times. Anyways, Auctiva is free. You can post up to 24 photos. All free. With eBay the first is free and each after that is 15 cents. With Auctiva you can schedule things in the future for free (changing the day or time to what you want). With eBay, there is a charge (I think 10 cents). Auctiva also has hundreds of templates. All are free. eBay, again, charges for them.
There are other outside listing companies to choose from. Some charge. Some are free. So far, I like Auctiva the best. Only downside is that on Thursday nights they do their weekly website updates and the whole site is down almost the whole night.
Sign up with Auctiva. Check it out. Post it if you have questions.
We did not do much, again, today. Went to too many garage sales today and found nothing good. A few I could not even find. The kids were with their dad for a few hours then we went to 'Sunday School' at church. Our church, The Church of Rocky Peak, has two Sunday services and both have a kiash that offers donuts, muffins, smoothies and other drinks. At the Saturday night service this is not available but the children get to have pizza during snack time! A great way for me to not made dinner! LOL! Daeton still has his cough but it WAS almost gone. I think the cold air tickled it and he was coughing most of the drive home after church. Probably didn't help that he is overtired and that the three of us raced to the car, running in the cold air.
Tomorrow we have a field trip/tour of the Simi Waste Treatment Plant. Someone I know from college works there and is going to give us a private tour. Should be weird, gross, smelly and interesting. Not sure what the kids will think. My mom said she went there with an environmental class in college and she really enjoyed it. I'll post how it went. If it seems interesting enough I can organize a field trip that is open to the homeschool community.